DON'T
1. Never use the swim ladder when the engine is running.
2. Never leave the steering wheel when engine is running
3. DO not leave people standing while sailing.
4. Avoid sailing at night.
5. Never approach diver's buoys.
6. During the trip we check for floating objects, other boats or divers.
7. WE DO NOT VIOLATE THE NAVAL PROTOCOL PRIORITIES

DO
1. Always wear the quick stop on hand while driving.
2. Children up to 7 years old must wear a life jacket.
3. Make sure you have enough fuel for the trip.
4. Always put the anchor safety on when the boat is moving.
5. Gather the ropes in board prior departure.
6. Keep a 200m safety distance from swimmers.
7. Approach the shore with minimum speed and maximum attention.
8. Enter the marina with minimum 3kn speed.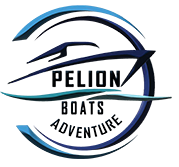 The company
Our love for the sea created Pelion Boats Adventure, a yacht rental company. Our boats are brand new, CE certified and equipped with the most modern means. Choose boats without a diploma or with a captain for private cruises. You will find us at Glyfa Kala Nera Port of the Naval Schools with comfortable parking. Come and experience a unique experience!