SEA QUEST 5.80
---
Model: 2020
---
Engine: MERCURY 115Hp & 5Hp
Dimensions: 5.80m * 2.30m
Persons: 8 Certification: CE Available with speedboat or skipper license
---
Features: MERCURY 115Hp & 5Hp Auxiliary machine, Gasoline tank: 1x150lt and has Medium consumption: 0.5-0.7 lit / nm. It is equipped with awning awning, gps and sonar. Capacity up to 5 people.
Our boats are certificated with Certification: CE.
Permission up to 8 persons.
Prices are per day including VAT.
We deliver your boat and receive it with full fuel tanks.
Includes mixed boat and passenger safety.
Lease time starts from10:00 and ends the same day at 18:00.
Available only with captain.
Possibility of renting with the time and for multi-day rental by appointment.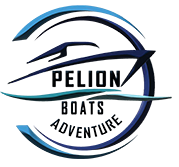 The company
Our love for the sea created Pelion Boats Adventure, a yacht rental company. Our boats are brand new, CE certified and equipped with the most modern means. Choose boats without a diploma or with a captain for private cruises. You will find us at Glyfa Kala Nera Port of the Naval Schools with comfortable parking. Come and experience a unique experience!